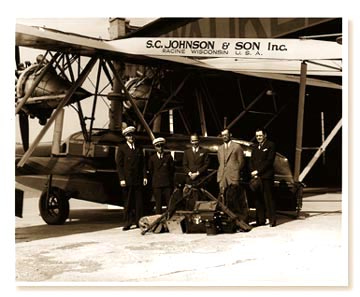 "Carnauba wax made our product better than anybody else's," says Sam. "At the time, it grew only in northeastern Brazil. So Dad decided he had to go to that place, where very few people from up north had ever been, to ensure the future supply of carnauba."
At first, the Johnson paterfamilias thought to retrace his father's flight in the Cessna Caravan that he owns and flies himself—he's a rated jet and seaplane pilot. But on one of his yearly pilgrimages to the EAA fly-in convention in nearby Oshkosh, Sam met Buzz Kaplan, "a vintage airplane nut." He told Kaplan of his dream to fly south in the Caravan. Kaplan said, "Sam, you don't want to use the Caravan!"
"I don't?" Sam replied.
"No. Do it in the same airplane your father flew."
"But there aren't any left!"
When Kaplan offered to build a replica—from scratch—Sam gave him the nod, and Kaplan's Born Again Restorations team went to work.
The original S-38 came from the fertile mind of Igor Sikorsky. More than 100 were built and sold. Its success helped bankroll the Russian emigree for his most challenging design yet: another type of aircraft called a helicopter.
Buzz Kaplan's B.A.R. team needed three and a half years to recreate the Sikorsky S-38. By the summer of 1998, it was "Next stop: Brazil!"
"My son Curt and I were the pilots, and my son Fisk was our chief information officer," Sam says. "We go to Canada for fishing trips, camp out of the airplane, that sort of thing. But once they reached their 40s...well, it's a big company. I began to lose that sense of family. So I got them to commit to this trip. It was the beginning of a great reuniting of our family."
At dawn on the cool, crisp morning of October 22, 1998, Sam, Curt and Fisk Johnson lifted into a clear orange sky aboard the Spirit of Carnauba from Racine's Batten Field. Over the next several days, they winged south and east, first to Miami, then to Great Exuma in the Bahamas; San Juan, Puerto Rico; and Guyana, Suriname. Finally, after days-long flights over endless rain forests and long expanses of primitive beach, the S-38 landed at Fortaleza, Brazil—27 days and 7500 miles from Racine.
"The trip brought us together," reflects Sam two years later, "not just in a business way, but in that important way that aviation fosters camaraderie and a sharing of experience. Our relationships are more solid than ever."
The Spirit of Carnauba made quite a stir at the EAA Oshkosh convention in 1998. Its legacy lives on in permanent display at the new EAA hangar in Racine.
"When I was a boy," Sam recalls, "my father would tell me stories that made my eyes open wide in wonder. His flight was a gutsy thing to do in 1935. My own journey helped me describe for my children how I felt about Dad when he was doing all these wonderful things. You see, I was just a young boy, and he didn't seem to worry too much about me.
"Maybe I'm what I am today because he allowed me to grow up in some ways on my own. But he was a great inspiration. My admiration for him has only heightened over the years," Sam proudly admits.
Sometimes the farthest journey brings us back home. For while the flight of the Spirit of Carnauba rekindled the family and company spirit Sam Johnson was looking for, perhaps it also completed that journey we all make in search of our place and worth in the world. In closing his own 7500-mile loop to the land of the carnauba palm, Sam Johnson may also have discovered the deepest spirit of the man who once wrote an inscription to his little boy—"To Sammy, I hope you make this trip someday"—and made sure to sign it, "Love, Dad."
For an incredible account of the Johnsons' epic flight, log on to www.scjcarnauba.com.